PERSONA
An exhibition by Maria Moritz

An exhibition by Maria Moritz (March 30 – April 04, 2023)
fffriedrich, Alte Mainzer Gasse 4-6, 60311 Frankfurt am Main

How can we reflect on both the complex relationship between the exposing artist as an individual subject and the artwork as an objectification of personal and historic fragments? In other words – what does it mean to process one's own experiences through exposing a rather public subject like an artwork? How can we approach the idea of imbuing the image, as an object, with the artist's persona?

Through a gray curtain, our gaze is directed towards the oil painting Elbestr. 41 (2022). An empty bed, the churned sheets were possibly just left and could be still warm from the night before. Although the artist herself is absent from the painting, she grants us a fleeting glimpse into her most intimate space – the private bed as a place where we strip down clothing, make-up, and facades and where we are most vulnerable. Knowing that we see a bed Moritz herself has slept in, we can perceive it a something authentic, taken from the artist's individual space of experience. However, the bedroom and the bed itself become projection surfaces or screens that point beyond the artist as an individual: For your own memories and stories of something that came before and after; about the banality of everyday life; loneliness, sex and sweat; about nightmares and dreams. This merging of something alien and personal inscribed into our perspective allows us to reflect on the complex relationshi between the experience of a subject and its objectification in the image.

The self-portrait not inward, not close (2022) pushes the idea of (self-)exposure even further, showing the artist as a floating head squeezed between pillows against a yellow background, her eyes rolling obsessively into her head. The figure seems barely able to withstand the physical pressure an surrenders to the movement in the pictorial space.

The empty faces of the sculptural works Fellows I and II (2021/23) seem to lurk, following us with their looks. They may function as stand-ins for an anonymous audience that judges, appraises, observes, and reciprocally controls and disciplines. Perhaps also an alter ego; figures who make our self-observation observable; through whom the act of looking is contingent on the thought of being looked at. Moreover, through the visual axis between the figure and her self-portrait, Moritz makes herself the object being looked at – with her rolling eyes attempting to avert these gazes.

With the exhibition PERSONA, Maria Moritz transforms fffriedrich into an intimate space which reflects on its own complicated, public character. We observe and are observed, peak through the curtain at something supposedly intimate, projecting the artist's identity onto the pictorial objects, thinking of them as fused with her art. But what produces our image of ourselves, and others are distorted screens and canvases. Although all the works in the exhibition refer to Moritz, we can't make any eye contact or an immediate connection to the artist's persona. Rather, Moritz's self seems to dissolve in favor of the audience's imagination. Reflecting on the complex relationship between lived reality and its reflection by artistic means is, it could be summarized, only possible in the awareness that "[w]e are beings that are looked at, in the spectacle of the world. That which makes us consciousness institute us by the same token as speculum mundi."1


Curated by Emily Nill and Louisa Behr
With generous support by Dr. Marschner Stiftung

1 Lacan, Jacques: The Four Fundamental Concepts of Psycho-analysis, London, N.Y.: W.W. Norton, 1978, S.75

---
Photos by Sonja Palade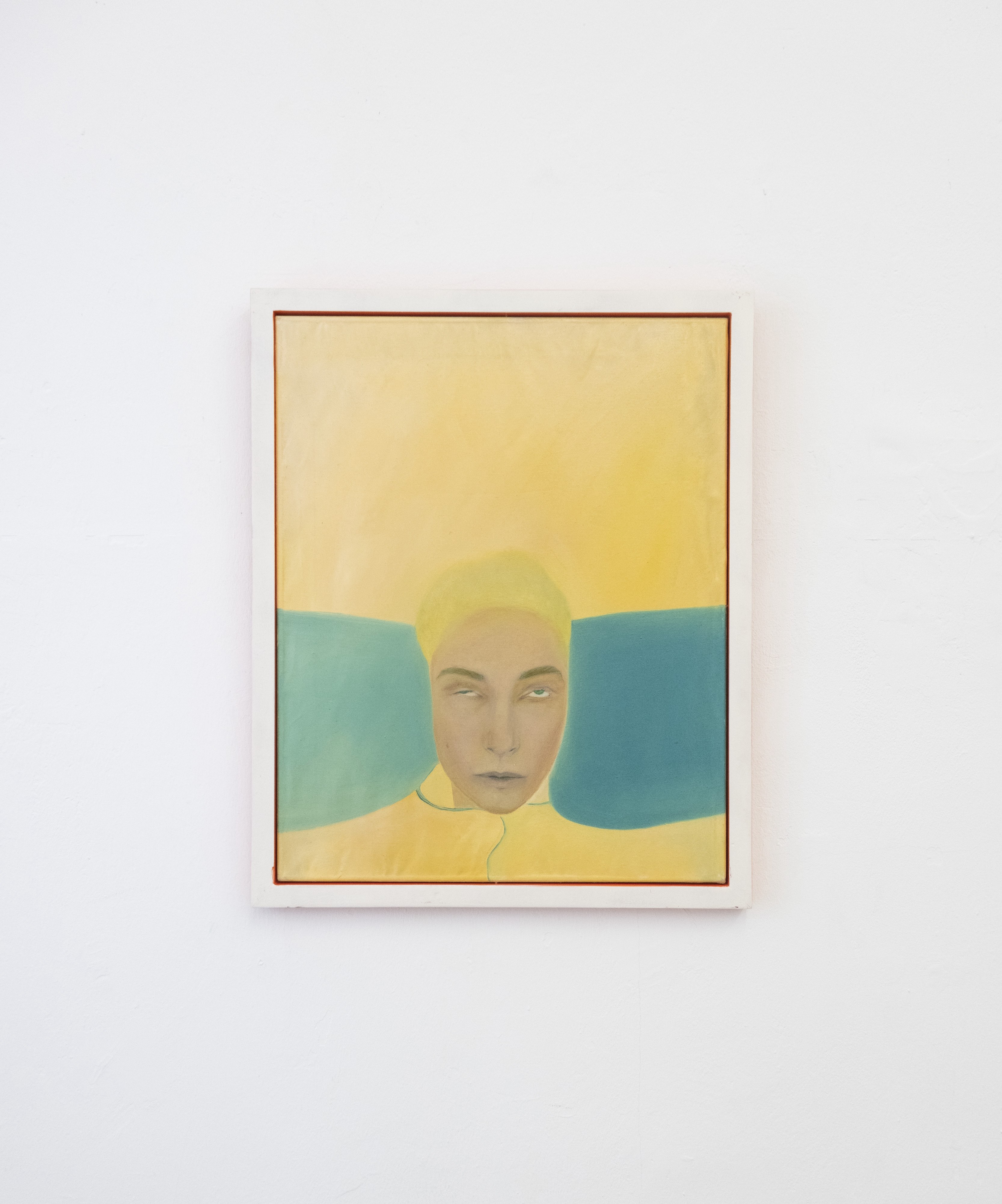 TIDAL


An exhibition by Antonio López and Samuel Linus Gromann

Accompanying text by Grant Tyler
Poster design by Rebecca Lothan
Photo documentation by Jiyoon Chung

17.03.-24.03.2023
Opening Friday 17th March at 7 pm

fffriedrich
Alte Mainzer Gasse 4-6
60311 Frankfurt am Main


Car nous voulons la nuance encore
Pas la couleur, rien que la nuance
••••••••••••••
Et tous le reste est littérature.

For what we still desire is the nuance
Not the color, nothing but the nuance
••••••••••••••
And all the rest is literature.

—Paul Verlaine

For the last 50 years or more, aesthetic experience — the presence of an artwork and its effect on a viewer in space — has been relegated to a secondary status in the rubric of art's value. That is not to say that it has been utterly absent, but it has been significantly under-appreciated. Since 2008, almost every trend of young art has (more or less urgently and self-consciously) reprioritised aesthetic experience as the primary task of artworks and the primary concern of artists. Ironically, during this same time it has become normal for shows to be organized, texts to be written, for careers to be made and broken, based on digital imag- es displayed on small screens. It's under these circumstances that I'm writing this text in Los Angeles.

The impulse of the show, through its various configurations, speaks to a desire for world building, the strength of which I'm not used to in Los Angeles. Here artists work in shows, as is the rule in Contemporary Art. But at the end of the day the works are predominately discreet, often through serialization. This show, by contrast, proposes a sparse yet totalizing Surrealistic environment, complete with uncanny creatures, unstable surfaces, evasive figures, enigmatic mechanisms, and so on. The artists have chosen a constellation of works from their troves which would suppress a sense of seriality and underscore a dramat- ic, theatrical spatial presence. A friend recently coined a vibe which I think fits well here: "disperse psychedelic noir." It's a uniquely modern tone that, anach- ronistically, could be applied to anything from the East Village scene in the 1980s, to the cafés of Breton and Aragon, to the streets of Baudelaire. In any case the attempt here is to create a continuity of space between the objects (as evinced with the floor and the grasshoppers), which is as important to the artists as the degree of completion and continuity apparent in the works themselves.

There is an irreverent attitude in painting coming to the fore in the last few years attempting to navigate the Scylla of ironic resignation and the Charybdis of kitsch sentimentality. It comes on the heels of other trends, some of which still are full of steam, including what I call fantasycore, psychedelic abstraction, what Barry Schwabsky called "perverted realism" and so on. Unlike these other trends which also foregrounded the expe- rience of the work's presence, there is a pop sensibility to this later trend. For reference, look at the paintings of AJ Kahn or Maggie Friedman in LA, Jake Shore, Joe Speier, Olivia van Kuiken, or Joshua Boulos in New York, and even a few in Melbourne including Josh Klein and others around Guzzler & asbestos. It is an imperfect grouping but I'm con- fident in some elusive, binding, and unique goal which all these painters implicitly share. My sense from conversations with Antonio and from seeing others of his paintings in the States is that he shares in this attitude: that before turning to concerns of formal historical development or symbolic meaning, a more pri- mary and naked experience of a painting is necessary, one which isn't overly romantic nor cynical, but rather invokes these paradigms as interpenetrating and interdependent aspects of human experience. The works Antonio's selected for this show foreground a sense of immensity, of emptiness and aimlessness, with the figurative work even calling to mind the carnivals of Ensor. There is a casual attitude in the works, a kind of sprezzatura. As though in their execution they are decidedly "just right," and "good enough." This is a well-at- tenuated irreverent disposition coming through. They are not ironic and cynical like much of the painting in the Contemporary era, nor are they sentimental and quaint like kitsch. They sit around and between or beyond.

Samuel's sculptures on the other hand, share qualities with an adjacent phenomena of the last 7 years or so: Neo-Surrealism. Like the more recent afore- mentioned irreverent trend in painting, the Neo-Surrealists also prioritize immediate aesthetic concerns over the anxiety of formal progress. In many ways, Neo-Surrealist painting and sculpture — like the original Surrealist painting and (to a lesser extent) sculpture — is retrograde; is dependent on classical ideas about form and representation to bring out juxtapositions between subjects and materials. I'm not sure one could classify Samuel's works here exactly in that sense. Pronouncing what these sculptures are of would be nonsense. It is, however, about articulating a texture of connotations and as- sociations. Beyond the infrastructural motifs, the astrological and occult associations, the strangeness of their newspaper treatment, something additional is generated: these elements are suggestive of a negative image in the work. These threads encircle an aesthetic idea which cannot be pronounced, only gestured towards. It's the careful staging of these interrelations that form the true venue of Samuel's work.

Antonio and Samuel's respective arts are social, which is to say they are exoteric in their orientation as they are influenced by themes and events from without. But by the same coin they are strongly invested in the unique experience they encourage their audience to have with the works. The generalisation to make about young art of the past 15 years is its predilection for aesthetic immediacy, and its allergy to overly Conceptual or literary approaches, at least insofar as the aesthetic immediacy is jeopardised or is dependent on an intellectual knowl- edge outside of the work itself. The works presented here are a part of that seismic shift outward, to the potential of affectual presence. They are made facing you, the viewwer. It is for you to feel them and judge their nuance or lack thereof; to scrutinise any overly sentimental color, if it is there. For it is only by this experience that these works could be said to be anything more than littérature.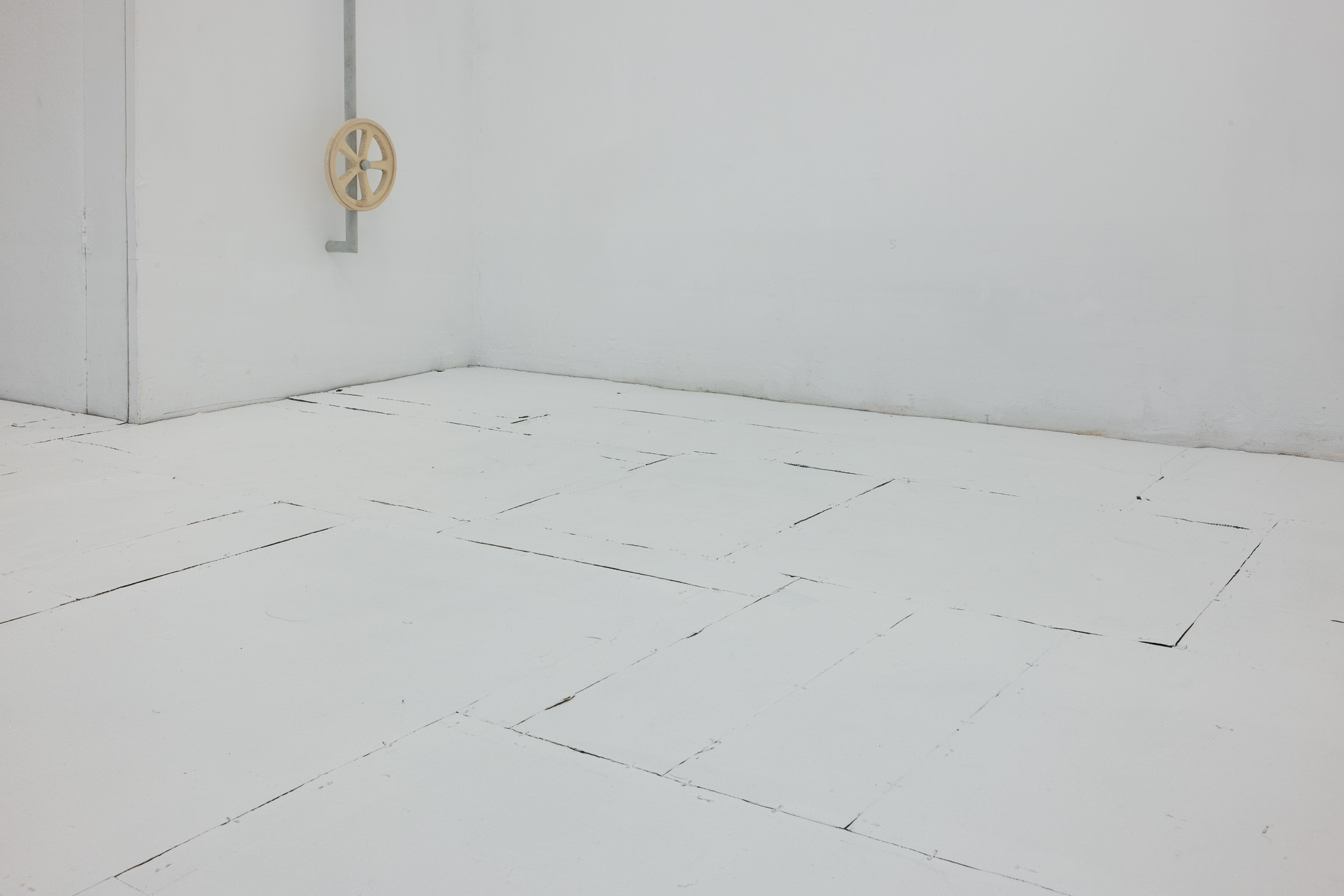 The Dream


An exhibition by Tornike Gognazde
Curated by Paula Maß (main) and Andrés Gorzycki (support)

05.02-09.03.2023
fffriedrich
Alte Mainzer Gasse 4-6
60311 Frankfurt am Main

For his first solo show, the artist Tornike Gognadze created a site-specific work which transforms the space of fffriedrich into a multi-room stage: several curtains, made of red wine velvet fabric, hang from the high ceiling, changing the original infrastructure of the space, dividing it into three areas. For one of them – the area, which is almost completely surrounded by curtains – the artist has built a stage platform based on wooden construction. This raised up space evokes, in logic of the public theater, the main stage.

In their materiality and colorfulness, Gognadze's (hand)sewn curtains also recall the appearance of the traditionally used main curtain of the theater, where it commonly acts as a movable, slightly glimmering partition between the stage and the audience area; its primary function is to cover (up) the stage and the transformations that take place within or behind it: erecting/reconstructing the set(s), inserting/removing the acting roles before and after the performance – or during intermissions. The still closed curtain could also be understood as projection surface for the (waiting) audience, who enlivens it with their own images, with scenes of their imagination.

In THE DREAM Gognadze seems to subvert the traditional functional logic of the curtain by reinterpreting the separation between stage and audience area, by – speaking in figurative sense – dissolving the boundaries between actors and visitors: the first area we're entering is understood by the artist as the backstage – for one moment, we're thus in the space of acting transformations, of taking on roles. In the next step(s), with our entry onto the side and main stage, we seem to be made into performers, we are conceived as part of the artistic play. But: we're not only allowed to play the most common role of the contemplative roaming viewer; furthermore our role isn't (pre)dictated by the artist himself.

Gognazde's idea, which underlies his extensive site-specific piece, is rather to put us under the question of how we are using the stage – not directly here, but in our life.

We are not the sole ones who (can) find a place on this exhibition stage. We share it with other essential players that take the shape of several drawings as well as of a photographic work, that – on the visible level – mostly take up motifs and/or surrealistic scenes of the theatrical, the personal stage(d) spectacles. This manifests itself most concentrated in the exhibition-named drawing "The Dream": it shows us another stage; the stage of a mouse, that takes on the role of nutcracker. The seats in front of the stage are empty; there is nobody (in the painting) who is examining the mouse. By displaying this painting and thus the nutcrackered-mouse we, as visitors, might be – for one moment – thrown back by the artist into the "traditional" role of contemplative glimpsing audience. Or: Are we being subjected to role questioning again?

"The Dream" as well as the other paintings, shown here in fffriedrich for their first time to the public, are understood by the artist in sense of diary pages. Writing down or illustrating our daily life or most secret thoughts is something we do alone, in our private sphere(s); usually we wanna hide this – the diary and the private rooms – from the public eye. Especially the domestic curtains seem to fulfill our wish of this privateness, of intimacy. Their function is – in difference to the one of the theater – shielding ourselves from the outside world; we seem to try a separation between the inside (private) and the outside (public) with it. With regard to this, it may not be surprising, that the artists paintings weren't – at first – meant to be staged in public.

With having this in mind, the tone of this exhibition strives into another direction. There is now this moment of tension, no longer just between the public stage and the audience, whose boundaries seem to be questioned here, moving between the role-playing(s) of performers/visitors/audience; now there is popping up this tensional play between the stages of public and private in the interface of the showing/hiding-ambivalence of the curtain.

Text: Paula Maß

Georgian artist Tornike Gognadze (*1999) studied at the VA[A]DS in Tbilisi, Georgia until 2020. Since 2021 he is student at Städelschule (Hochschule für Bildende Künste, Frankfurt am Main) in the class of Tobias Rehberger. His works have already been shown in several group exhibitions, including the duo show LAST SONG – DAWN/SINGING ROCK at Gallery 4710, Tbilisi, Georgia (18.09.–07.10.2021); the online group show HETEROTOPIA as part of MAFA International Festival, London, UK (January 2021); the group show THREE COURSE MENU at gallery space fffriedrich, (05.07–10.07.2022); the group exhibition TRAJECTORY OF THOUGHTS/UNARCHIVED SEMIOTICS at Art House Gori, Georgia (2022). Furthermore one of his sculptural works is part of permanent exhibition at Ria, Keburia Foundation Sculpture Park (since 01.2021).



An exhibition by Tornike Gognazde
Accompanied by text work from Linus Berg
Curated by Paula Maß
Photos: Esra Klein
Poster: Arnaud Ferron

---
Downloads


---
Voodoo for Fun & Profit


Duo Exhibition Jan Berger & Theresa Büchner
10.12.22-16.12.22

What comes up to your mind when you think of rituals?
Is an exhibition a ritual?
And/or is – with a view to the present day – consuming sth. already a ritualistic act?

Walter Benjamin would say yes! According to him, we, as individuals of late capitalism, encounter religion or rituals only in the form of consumption: "capitalism serves essentially to satisfy the same worries, agonies, troubles to which formerly so-called religions gave answer".Walter Benjamin: Kapitalismus als Religion (1921) Where Theresa Büchner's photographic work Winners seems to tie in with Benjamin's thoughts, Jan Berger has worked more in line with the faith of ritual acts in pre-capitalistic times. His series The Gazer juxtaposes images of Braco, a prominent healer, with art historical and pop cultural ones. In doing so a seemingly paradoxical refe- rence space is opened up consisting of religious representations, modernism, and computer-meme cultures that come together and become potent in Braco's esotericism.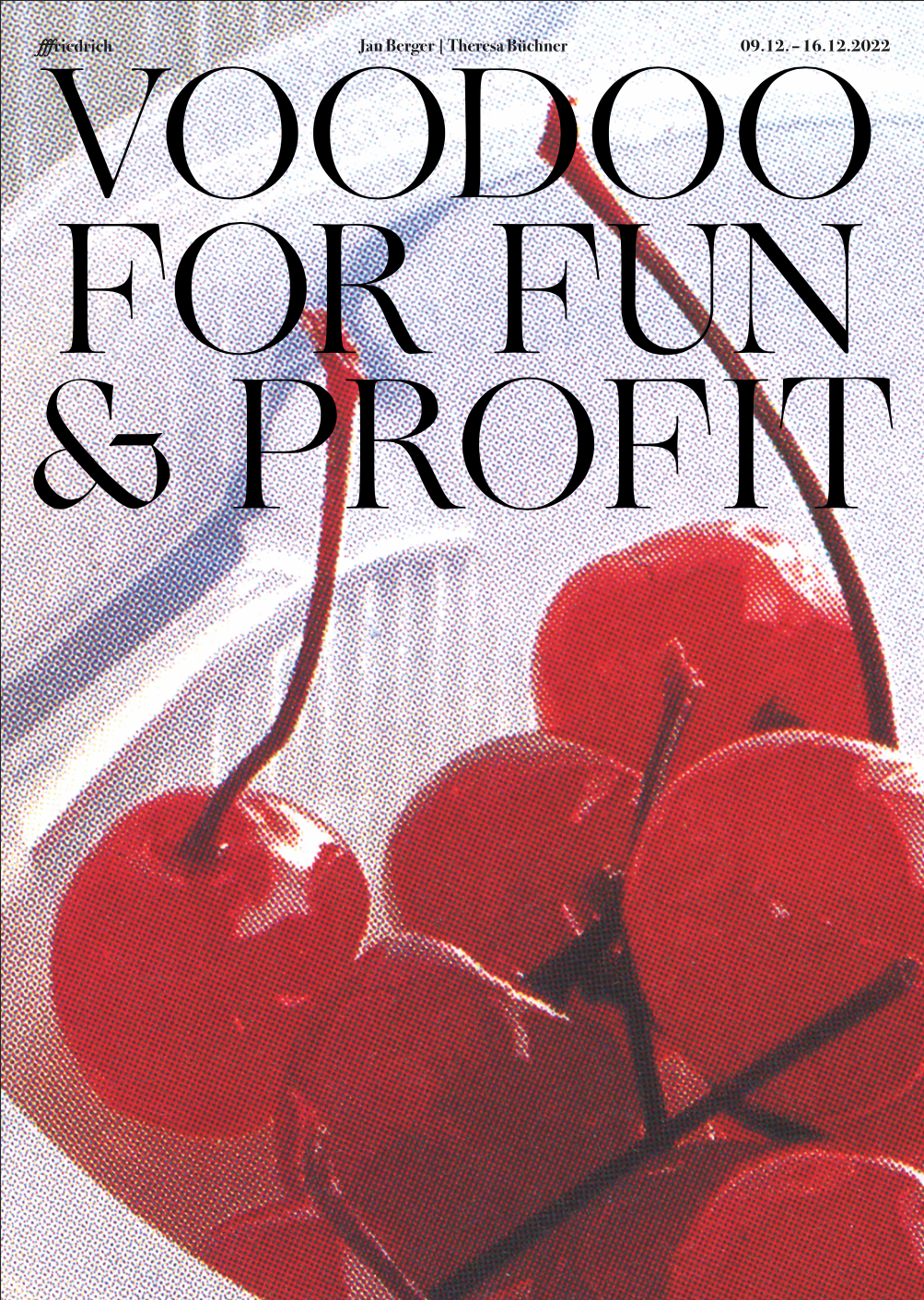 »I see the eyes that heal« is how we might paraphrase Roland Barthes,Roland Barthes: Camera Lucida (1999) in the face of Braco's photographs and thus join him in his amazement at the connection between the photographic signifier and signified, which continues to be at the root of the latent animism attributed to photographs. And indeed, the mediated image, whether in the form of photography or live streams in Braco's world, has a spe- cial significance: They are said to have as powerful an effect as the gaze of the healer himself, since even looking at his images promises healing. Photographs can also be used as agents of the patients willing to be healed and be gazed upon by the healer, thus transmitting the gaze to the absent – because Braco's gaze is described as being so powerful that pregnant women and children are advised not to expose themselves to it directly. Almost like medusa the gaze of Braco has to be indexically mediated in those cases.




Making a film and buying yourself a prize (for it) is the only condition to participate at FICOCC (Five Con- tinents International Film Festival). In her work Winners, Büchner, who also works with film, shows 25 of these winners (or buyers) of said film award – the precious prizes seem as proof and at the same time as multipliers of their success. The winners rely on the agency of their self-portraits. Büchner made a selection for her work from the extensive pool of trophy-selfies circulated by the winners and arranged them in a grid. The silkscreen was printed with silver ink on dibond. This special materiality of the print leads to the fact that, depending of the lighting situation, if one changes one's point of view, the picture will morph from a positive to a negative one. In this respect, Büchner's work makes us, as viewers, move in order to perceive it in its entirety and thus ensures that the agency of the images become bodily.




The title of the exhibition – Voodoo for Fun and Profit – represents, according to both artists, another case of a merger of ritualistic practices for one's own gain. Like the works of Berger and Büchner, the title is based on a concrete reference: It's taken from Medical Detectives, a series about criminal cases and foren- sics. The episode in question deals with a historic "murder mystery roleplay" conducted by a poison murderer within the Mensa Foundation in Florida and – just like the exhibited works – signifies a case study global image economies, and the colonial strategy of repurposing lived culture into aesthetic tropes.




The artistic practices of Berger and Büchner not only take two different but structurally similar ritua- listic economies as their subject, but at the same time get involved in its circulation of images. The exhibition itself therefore becomes a simulacrum of those rites. The artworks in that sense possess a double function as artistic reflections on images and their agency as well as the specific logic and ritualistic function of their subjects – the self-portraits of the winners of FICOCC are made to be looked at to develop their agency. The same applies to the pictures of Braco, whose healing power also applies to the appropriated images of Jan Berger.

In themselves exhibitions can be conceived as ritualistic practices.

Curatorial Support: Leon Jankowiak & Paula Maß
Graphic: Victoria Allakhverdyan
Photos: Esra Klein
Text: Leon Jankowiak & Paula Maß

fffriedrich
Alte Mainzer Gasse 4 - 660311 Frankfurt am Main

DOWNLOAD EXHIBITION TEXT

I think they should break up


8.11. – 25.11.2022
Charlotte Berg
Emily Dietrich

fffriedrich
Alte Mainzer Gasse 4
660311 Frankfurt am Main